les aus de s'albufera: la nostalgia del fang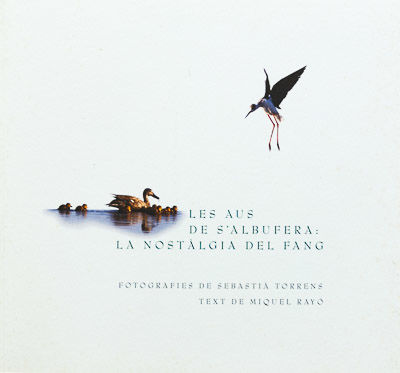 This book is a nice compendium of the views and long experience of two observers in a singular area: Majorca's S'Albufera Natural Park, largest wetland on the Balearic Islands. Photographs of Sebastià Torrens show to the readers eyes an always surprising and wonderful biodiversity of a Mediterranean wetland, and its essential landscape. The images, spectacular and with a flawless aesthetics, are part of a complete collection so far unpublished. The text of Miquel Rayo describes in words, always insufficient, the emotions that sensitive contemplation of nature causes in the human brain, especially the numerous birds that live in the lagoon. Images and text link page to page to show that nature is the best heritage that the Balearic society has to bequeath to future generations. This book is the second in a series that begun with "Cabrera, l'illa sense nom", with images by Biel Servera. Original text from Miquel Rayó.
"Les aus de S'Albufera: la nostàlgia del fang"
Edit: Di7, year: 2.001
Texts: Miquel Rayó Photograhs: Sebastià Torrens
Size: 22x20cm
Languages: català.
Price: 21 €