birds of mallorca
die vögel von mallorca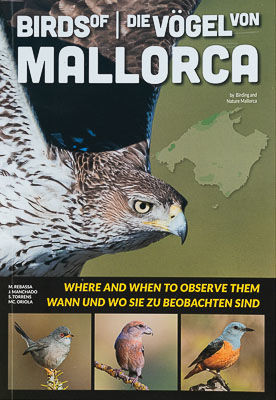 The guide "Aves de Mallorca, donde y cuando observarlas" is intended for both uninitiated and experts in the Balearic Ornithology. In its pages the reader will find:
• Rigorous and updated information on each and every one of the bird species observed.
• 200 files with quality photos, detailed presence maps, phenological diagrams, description of plumages and abundance of each species
• Checklist of the 371 species cited in Mallorca in the wild, plus another 9 of dubious origin.
It is, in short, an attractive and informative book, which in turn is also a specialized reference guide and a small distribution atlas of the birds of Mallorca, Cabrera and Dragonera.
«Aus / aves de Mallorca»
Edit: Birding and Nature Majorca, year: 2,018
Texts: Maties Rebassa Maps and phenology: Josep Manchado Design and layout: M. Carmen Orihuela
Photographs: Sebastià Torrens, with the collaboration of Juan Sagardia, Mario Suárez and Maties Rebassa
Languages: Catalan and Spanish
Price: 24 euros